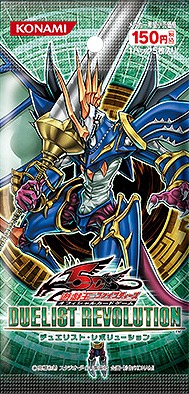 English Set Name :
Duelist Revolution
OCG Set Order :
701
OCG Set Prefix :
DREV
OCG Release Date :
17 April, 2010
Cover Card :
Surging Dragon Knight Dragoequites
Features:
o Introducing the 1st set in the 7th series of Yu-Gi-Oh.
o Introduces Fusion Monsters that requires a Synchro Monster as their Fusion Material Monster.
o Introduces the Scrap Archetype.
o Further support for the Elec, Naturia, and Amazoness Archetypes.
o Includes cards used by Yusei Fudo, Andore, Breo, and Jean.
o Many cards that work together with already existing themes.
o Also a great number of Beast monsters from Yu-Gi-Oh! 5D's.
5 cards per pack, 30 packs per box
Includes 80 cards :
o 1 Holographic Rare
o 5 Ultimate Rares
o 5 Ultra Rares
o 9 Super Rares
o 18 Rares
o 48 Commons
Spoiler OCG :
DREV-JP001 Earthquake Giant
DREV-JP002 Effect Veiler (Super Rare)
DREV-JP003 Dash Warrior
DREV-JP004 Damage Eater
DREV-JP005 A D Changer
DREV-JP006 Stronghold Guardian
DREV-JP007 Playing Opossum
DREV-JP008 Vanity Giant Monkey (Rare)
DREV-JP009 Unicorn Familiar
DREV-JP010 Monoceros (Rare)
DREV-JP011 Different Dimension Unicorn Knight (Rare)
DREV-JP012 Unibird
DREV-JP013 Bicorn Re'em
DREV-JP014 Mine Mole
DREV-JP015 Trident Warrior (Super Rare)
DREV-JP016 Delta Fly (Rare)
DREV-JP017 Rhinotaurus
DREV-JP018 Phantomhorned Beast Phypnocorn (Rare)
DREV-JP019 Scrap Chimera (Super Rare)
DREV-JP020 Scrap Goblin
DREV-JP021 Scrap Beast (Rare)
DREV-JP022 Scrap Hunter
DREV-JP023 Scrap Golem (Rare)
DREV-JP024 Elecgoldfish
DREV-JP025 Eleclemur
DREV-JP026 Elecpheasant
DREV-JP027 Naturia Mosquito
DREV-JP028 Naturia Beans
DREV-JP029 Naturia Bamboochute (Rare)
DREV-JP030 Amazoness Sage
DREV-JP031 Amazoness Trainer
DREV-JP032 Amazoness Queen (Super Rare)
DREV-JP033 Lockat
DREV-JP034 Elefun
DREV-JP035 Synchro Fusionist (Rare)
DREV-JP036 Treacherous Gofer (Rare)
DREV-JP037 Final Psycho Ogre
DREV-JP038 Surging Dragon Knight Dragoequites (Ultra Rare/Ultimate Rare/Holographic Rare)
DREV-JP039 Ultimate Psychicker (Super Rare)
DREV-JP040 Thunder Unicorn (Super Rare)
DREV-JP041 Voltic Bicorn (Ultra Rare/Ultimate Rare)
DREV-JP042 Lightning Tricorn (Ultra Rare/Ultimate Rare)
DREV-JP043 Scrap Dragon (Ultra Rare/Ultimate Rare)
DREV-JP044 Elechimera (Ultra Rare/Ultimate Rare)
DREV-JP045 Blow from the Blind Spot
DREV-JP046 Double Cyclone
DREV-JP047 Scrap Area
DREV-JP048 Scrap Squall
DREV-JP049 Scrap Polish
DREV-JP050 Elecure
DREV-JP051 Naturia Forest
DREV-JP052 Landols' Luminous Moss (Rare)
DREV-JP053 Amazoness Village (Rare)
DREV-JP054 Amazoness Fighting Spirit
DREV-JP055 Unicorn Beacon
DREV-JP056 Beast Rage
DREV-JP057 Miracle Synchro Fusion
DREV-JP058 Plague
DREV-JP059 Calamity's Armaments
DREV-JP060 Sage's Chalice (Rare)
DREV-JP061 Summon Curse
DREV-JP062 Pot of Greederosity (Super Rare)
DREV-JP063 Desperate Tag Change
DREV-JP064 Fight Instinct
DREV-JP065 Wild Roar
DREV-JP066 Parallel Select (Rare)
DREV-JP067 Surging Revival (Rare)
DREV-JP068 Surging Barrier
DREV-JP069 Chain Whirlwind
DREV-JP070 Scrap Counter
DREV-JP071 Elecannon
DREV-JP072 Amazoness Obstinacy
DREV-JP073 Queen's Selection (Rare)
DREV-JP074 Beast Riser
DREV-JP075 Phantom Beast Horn (Rare)
DREV-JP076 Paradox Fusion
DREV-JP077 Divine Warning
DREV-JP078 Anti-Magic Mirror (Rare)
DREV-JP079 Magnificent Dignity (Super Rare)
DREV-JP080 Light of Destruction
Sources :
http://yugioh.wikia.com/wiki/Duelist_Revolution